Experience healthy and active knees all over again.
Get back to an active lifestyle pain-free in a safe and supportive way. Without spending a fortune on hospital visits, surgeries and expensive medications!
Knee Compression Sleeves: Perfect for knees support, injury prevention, pain and soreness relief, and recovery.
Why It's Great:
✔ High-quality neoprene material keeps your knees at the right temperature, encouraging natural joint lubrication.
✔ Silicon impact pad provides stability for the knee cap as well as protection from bumps and bruises.
✔ Ergonomic fit and non-slip design ensure maximum comfort without slippage.
✔ Revolutionary support strips give full range of motion while protecting from twists and sprains.
✔ Easy-breathe, machine washable materials.
✔ Made for knees of all ages and gender.
Our Knee Brace is manufactured to provide superior support and comfort without compromising your mobility. Tight and breathable compression fabric maintains joint stability regardless of activity while avoiding the itchiness common to neoprene supports. Quick at absorbing sweat and keeps your leg dry and odor free, gives you hours of continuous use!
Breathable fabric

Elastic and overall length

Provide great compression

​Eliminates bad odors & High absorption capacity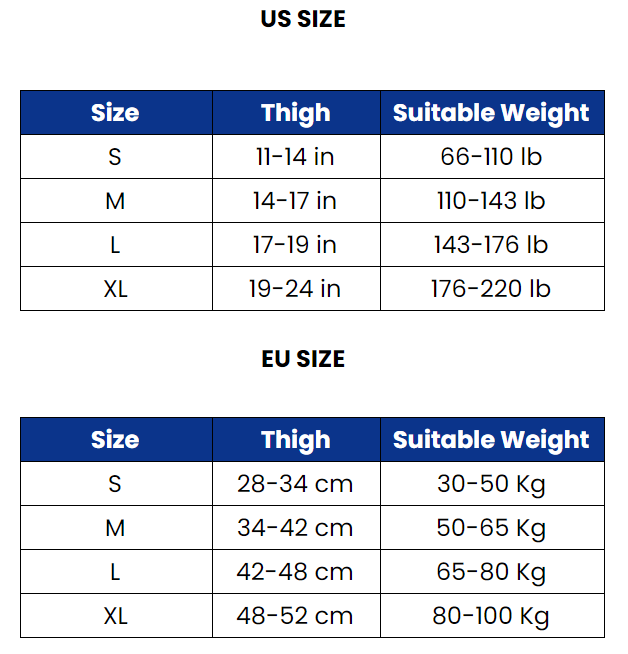 NOTE* – We encourage all customers to take measurements before purchasing.

Cleaning and care instructions:
Hand wash with mild soap or laundry detergent and cold water. Allow the brace to air-dry.

PACKAGE INCLUDES:
1 X Knee Brace Compression Knee Sleeves