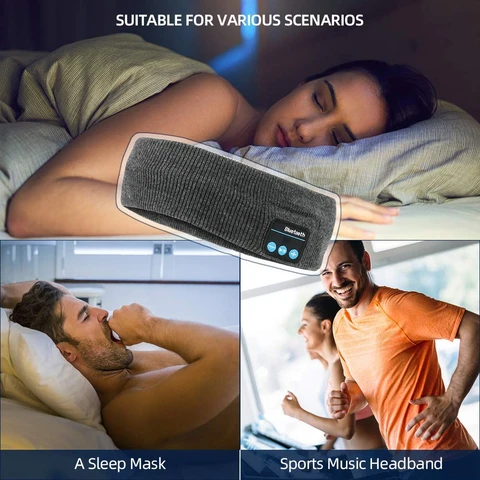 Normal headphones and earbuds are usually not comfortable to wear all night -plus they can cause severe damage to your ears.
That's why Pro Headbands are made with a patented headband design made of lightweight, breathable fleece inset with ultra-thin, removable Bluetooth speakers.
Compatible with every smart device which has Bluetooth function!

PROMOTE SOUND SLEEP AND HEALTHY LIFESTYLES 
When going to sleep or sleeping next to a snorer
For people suffering in various degrees from excessive stress or worry
While-Reading, listening, stationary biking, walking, or jogging
THE UPGRADED VERSION:
Longer Standby Time
More Comfy and Breathability
HD High Fidelity Audio Sound
Whether you have a partner who snores or you have a hard time sleeping on an airplane, the Pro Headbandare a comfortable choice for at-home or travel sleeping headphones.


BENEFITS:
Stream audio wirelessly via Bluetooth technology
Reduce ambient noise, conversations, traffic sounds, and snoring
No painful ear buds or awkward headphones
FEATURES:
Rechargeable Battery Working Time: Up to 12 hours
Charging Time: 3 hours
USB charger included with purchase
Built-in volume and play/pause controls
❓ Q&A 🤔
Q1: How long can the headset work?
A1: 100% power can work for 12-14 hours, sleep can work all night.
Q2: Will the side sleep headphones press on the ears?
A2: The earphone ultrabook is designed with 4mm thickness earphones, which is very suitable for side sleep.
Q3: Are they washable?
A3: Yes, very easy to clean, just take off the Bluetooth module inside then wash the headband.
Q4: Does it include a mic so that it can be used for phone calls? Or do you have to hold the phone close to using the phonemic?
A4: Yes, it could be used for phone calls without having to hold the phone.